On 15 May the Green Hub celebrated its first anniversary with an Open Garden Sunday. A bit of drizzle did not stop the merriment, with over 100 volunteers, their friends, family, and supporters attending.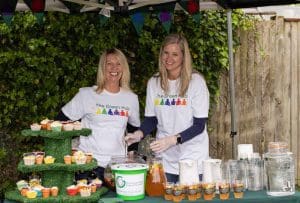 Godalming Mayor, Mike Steel supported by his wife Jane, cut the ribbon and celebrity gardener Flo Headlam from BBC's Garden Rescue presented our Golden Gnome Awards to two extraordinarily hardworking volunteers. Our Chairs, Tone Tellefsen Hughes and Vanessa Lanham-Day welcomed and thanked everyone for their hard work and support in getting us to this point.
Live jazz provided by Jim and Richard Luck entertained us all while the garden looked amazing, reflecting the hours of hard work put in by the adult and teen volunteers. The newly installed herb maze for quiet contemplation was a particular highlight.
Hand-made bunting decorated the new Green Hub marquee, a delicious fruit mocktail was on offer (see the recipe below) and plants, grown by our teen volunteers were available for sale. The literal icing on the cake were the beautifully decorated cupcakes for sale in our 'Cake Garden'. The atmosphere and visitors were warm, friendly, and as ever, so generous with both time and donations, raising over £400 – a huge thank you to all that came along and contributed!
Volunteers' Week in June 22, thank you!
Last week was Volunteers' Week and it was an opportunity to recognise the amazing contribution volunteers make to local communities and to say thank you.
The Green Hub has grown from a small group of 4, to 38 people over its first year. We could not have achieved all we have over the last year without the support of all our lovely volunteers. With this in mind, we wanted to say an extra special thank you in recognition of your help, hard work and friendship. We greatly appreciate your support of the Green Hub, each other, the wider community and especially of our teen volunteers and their families. Happy anniversary and thank you!
Enjoy our Zero-Proof 'Pimm's' Cup Mocktail
Ingredients for one serving…
Ice
4 mint leaves
1 orange slice, halved
1 hulled strawberry, cut into quarters
1 slice of cucumber
1 slice of lemon or lime
150ml lemonade
1 tablespoon balsamic vinegar
1 tablespoon fresh orange juice
Directions
Add ice to a glass with the mint, orange slice, strawberry, cucumber, and lemon or lime.
Pour in the lemonade, balsamic vinegar, and orange juice.
Stir and enjoy!
https://www.thezeroproof.com/non-alcoholic-mocktail-recipes/pimms-cup-mocktail